We have an amazing professionally built billy cart to give away at this year's Vodafone 600 King Of The Hill event. If you're not entered to win our awesome custom built billy cart, don't worry, you can still build your very own cart at home and have your kids zipping around the neighborhood in no time.
Simply follow the instructions below and remember safety first at all times. So use the proper tools and protective gear. Happy building!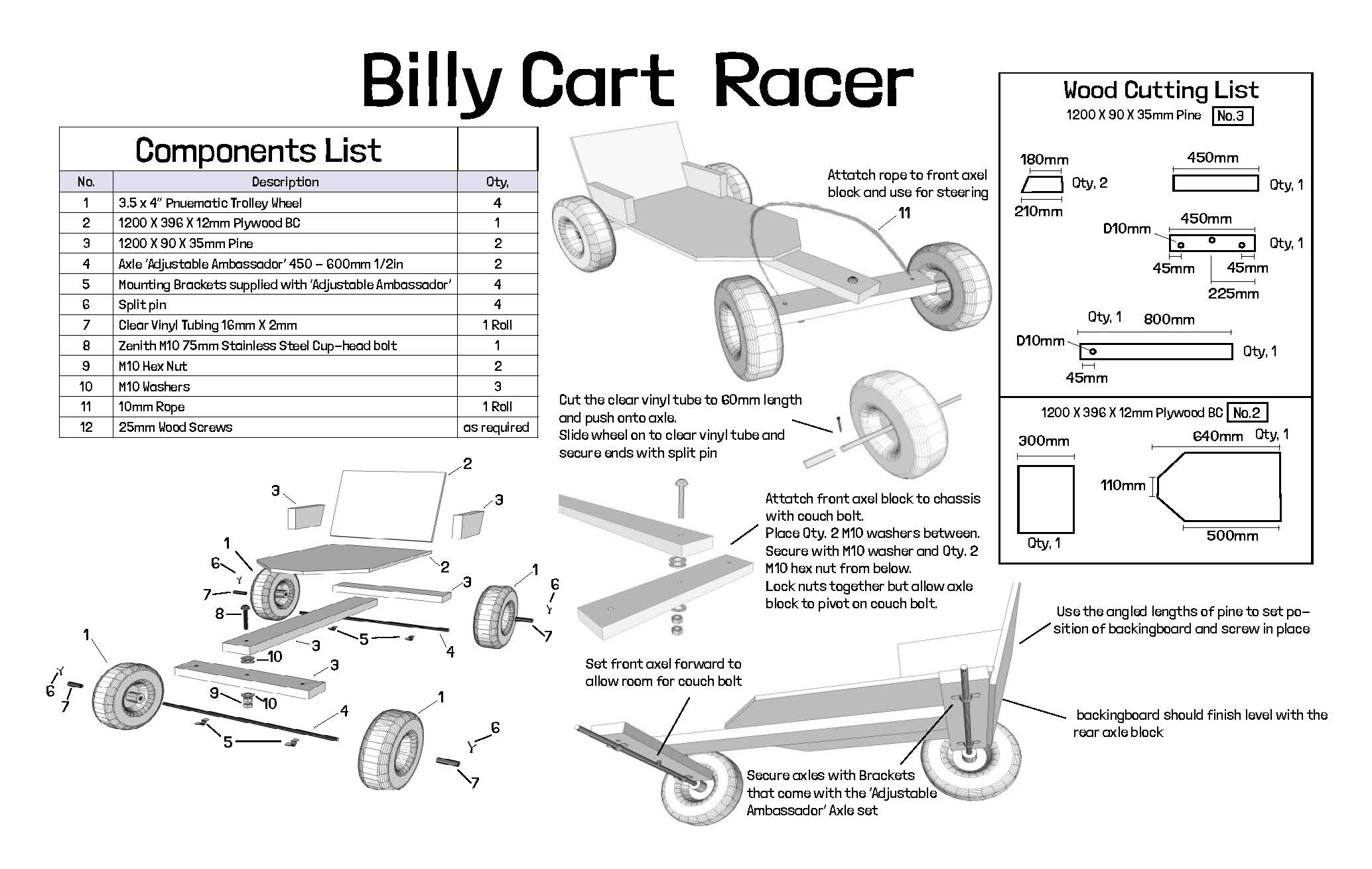 Materials:
The parts required for this Billy cart are:
Qty.4 X 3.5 x 4″ PNEUMATIC WHEEL STEEL RIM STUD TREAD
– Making your ride smoother (https://www.industrialwheelsandcastors.com.au/product/psstud350x4p58/)
Qty.1 X 1200 x 396 x12 mm Plywood boards
Qty.2 X 1200 x90 x 35 Pine timber
Qty.2 X Axle 'Adjustable Ambassador' 450-600mm 1/2in
Qty.4 X Mounting brackets (supplied with adjustable ambassador)
Qty.4 X Split pins
Qty.1 X Roll of clear vinyl tubing 16mm x 2 mm
Qty 1 X Zenith M10 75mm stainless steel cup-head bolt
Qty.2 X M10 Hex nut
Qty.3 X M10 Washers
Qty.1 X Roll10 mm nylon rope
Qty.20 x 25 mm wood screws
Tools required:
Tape Measure
Marking Pencil
Saw
Electric Drill
Spanner or socket wrench
Sanding block
Pliers
Building Steps:
Base and Seat construction:
1. Measure and cut your ply to the backboard and baseboard sizes as per the diagram above.
2. Next measure and cut the front and back axle pieces, main brace and sideboards sizes as per the diagram above.
3. Drill holes for your rope in the front axle and also drill a hole for the coach bolt.
4. Drill a hole for the coach bolt in the main brace.
5. With a sanding block, sand all the edges of the cut ply to smooth the edges.
6. Screw the baseboard to the rear axle.
7. Position main brace in the middle of the baseboard and rear axle (should create a T shape). And screw the main brace to the baseboard.
8. Attached the axle rod to the rear axle by fastening the axle brackets to the rear axle with screws and sliding in axel rod.
9. Position your side boards and screw to the baseboard, creating an angle out from the back axle.
10. Place the backing board on frame and screw into position to complete the seat section.
11. Locate front axle rod and attach to front axle by screwing on brackets and sliding in the rod.
Wheel Setup:
1. Slide clear vinyl tubing on axels and cut to size to reduce wheel wobble and looseness. Then slide wheels onto each side of the axle rod. Using pliers and a split pin each time to secure the wheel.
Steering Setup:
1. Push coach bolt through the mainbrace and front axle. Then add a washer and secure with two nuts. Make sure to fasten nuts so the front axle can swivel freely but is not too loose.
2. Feed your rope through the holes in the front axle and tie off with a knot so it can't come back through.
The paint job and complete:
Apply your favourite coat of paint and wait for it to dry and then it's time to roll!
We hope you enjoy the build and look forward to seeing you at the 2018 Vodafone 600 King Of The Hill event in Burleigh Heads, Gold Coast.