A pneumatic wheel is much like a standard car tire. An outer rubber wheel is attached to a rim and air is forced inside the wheel to provide pressure, which provides shock absorption over uneven and bumpy surfaces.

The wheel can either include an inner tube or be tubeless, and the rims that the wheels are attached to come in many different materials and have options of various types of bearings.
Pneumatic tires are a popular wheel option in industrial caster applications. Pneumatic tires are wheels with a metal hub with a rubber tire mounted to it. The tire is filled with air or foam to a desired pressure level to achieve load levels. There are many benefits to using this type of wheel as well as a few drawbacks.
Pneumatic tires have many benefits in industrial caster applications.  The main benefit is the ability to absorb shock loads from impacts and cushion the load.  Pneumatics are used in applications with uneven or bumpy terrain or where the contents of the cart must not be subjected to sudden or destructive shock loads.
Pneumatic tires can also be used off-road as they can absorb the unevenness of off road terrain.  They are great in applications that require both off-road and on pavement operation.  Pneumatic tires are also quiet in use because of the soft rubber tread and shock absorbing ability.  This helps improve the working conditions and OH&S requirements for your staff, these tyres can reduce loud noises and absorb much of the shock and jolting that occurs when moving product up, down or through rough terrain protecting staff backs and joints.
Tyre Styles
The following are standard patterns available;
RIB: straight lines along the tread, common on wheelchairs
LUG: general purpose, outside use.  Strongly marked cross lines on a fairly flat tread surface.
DMD: diamond shaped pads on a flatter surface, often used in rougher construction sites.  Good for softer grassed surfaces but may become clogged with mud.
ZGG: grey rubber zig zag – non-marking on floors
KNO: this knobbly pattern is often preferred for outdoor use where a strongly marked tread takes a good grip on soft ground.
STUD
Knobby
Universal
COMMON USES / INDUSTRIES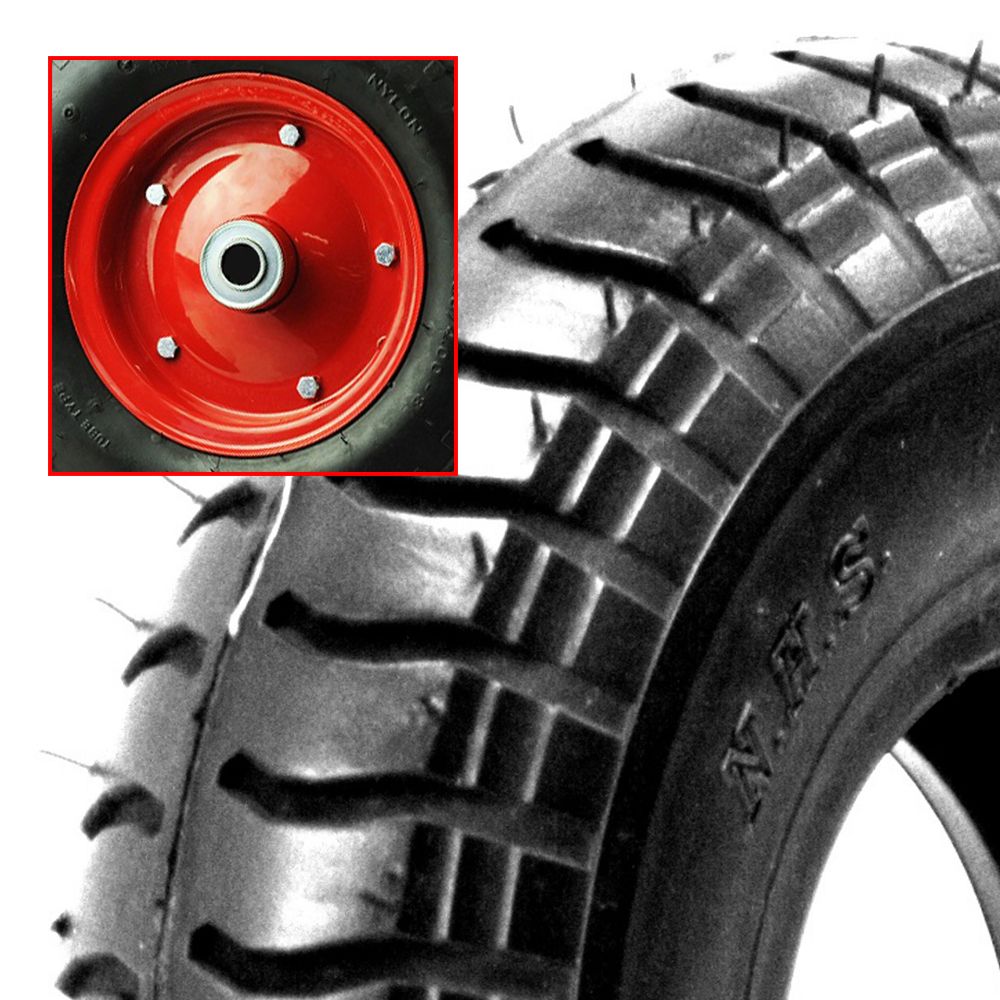 2.50-4 | Foam Filled | 75KG
Castor Wheel
Add to Cart
$

31.63
(Incl. GST)