THE CUSTOMER
The client is an American based marine robotics corporation. They design, manufacture and distribute a solar-powered ocean surface vehicle, named 'Wave Glider'.
THE APPLICATION
This vehicle is left in the ocean for large periods of time to collect and transmit data from locations that are unavailable to ships or islands. Wave gliders are often used by research institutes to track: pollution, temperatures, salinity change, oil, and military ships.
The vehicles are docked on ships and land and it was found that a variety of castors failed early due to the extremities of artic temperature, sun exposure, the frequency of immersion in salt water and the abrasive nature of ship decks.
BLICKLE'S SOLUTION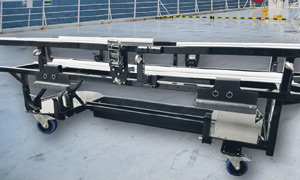 Our partner in Germany, who supplies a large amount of quality stock to QHDC came up with a brilliant business solution that will outlast the extreme conditions. Engineers and product specialist determined that LEX-POBS 125XKA-FI and LEX-POBS 160XKA-FI was the optimal wheel/castors solution. The hydrolysis-resistant high-performance Blickle Besthane Soft® tread and the black nylon core are resistant to the sun and abrasive decks. The stainless steel ball bearings with rubber sealings and stainless brackets have a strong resistance from the corrosive nature of being submerged in salt water.
THE RESULT
After testing it was determined that the prototype withstood the extreme conditions and has been approved for future productions.
See product here.
Source: Blickle